Your full suite of B2B marketing automation tools to create meaningful connections and generate pipeline (formerly known as Pardot)
It's time to automate your marketing! With Salesforce Account Engagement you can take the manual labor out of common marketing and sales takes to help your team speed up the sales cycle. Plative's Launch package is designed to get you up and running in only 14 days - so you can begin filling your sales funnel with high-quality leads as soon as possible.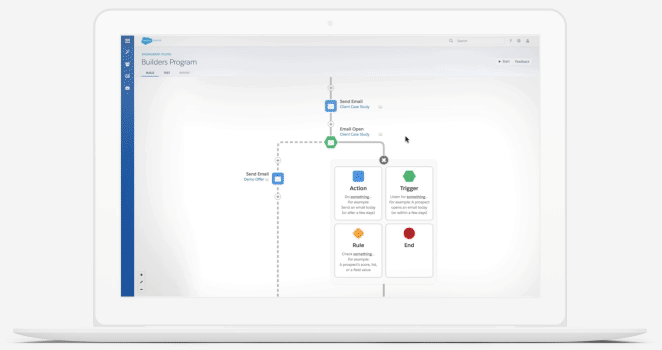 Data Migration via Prospect Imports
We'll help you import your existing base of prospects and customers into your new Account Engagement platform - so your hard
List Segmentations
We'll help you set up your list segmentations into subscriber groupings using demographic, geographic, and behavioural categories.
Web Forms and
Landing Pages
We'll teach you how to generate leads with tailored landing page content for website visitors and convert them into prospects with custom forms.
First Marketing Email Send
Once your setup is complete, we want to make sure you're up and running - that's why we'll be hand-in-hand in creating, optimizing, and sending your first test email.
Engagement Studio Journeys
We'll help you set up smart cross-channel experiences, optimizing channel selection, and personalizing each moment in a seamless connected journey.
Email Reporting
Once the first test email is launched, we'll work with you to review the data and ensure that the reports are delivering back the right insights you need for the future.
A Proven Methodology, Made Possible By Hundreds of Deployments
Unlike most Salesforce implementations, Plative Launch is structured to quickly deploy pre-built modules that we've meticulously perfected over hundreds of implementations. This means that you can go from Excel spreadsheets to Salesforce in 60 days or less.

You're In Great Company
Hundreds of companies choose Plative to achieve success with Salesforce Marketing Cloud




Get Started Today
You're one small step away from transforming Salesforce into an all-in-one solution in 60 days. Book a call today.