Salesforce for Dealmakers, Optimized by Hundreds of Successful Projects
Developed and meticulously optimized by the capital markets experts at Plative throughout our 10-year history of implementing Salesforce for capital markets, our Plative Launch accelerator is purpose-built for private equity investors, venture capitalists, secondaries investors, and investment bankers.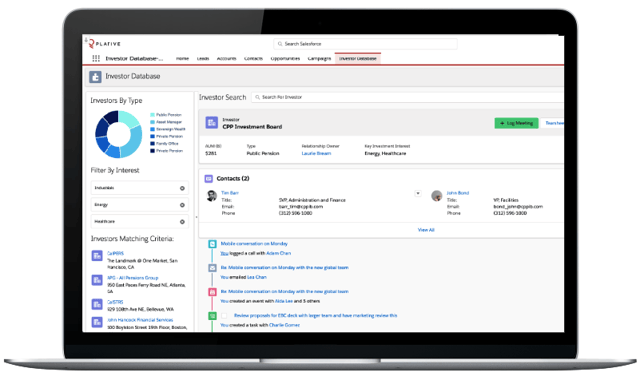 Content from a real Plative-Built environment
A Proven Methodology, Made Possible By Hundreds of Deployments
Unlike most Salesforce implementations, Plative Launch is structured to quickly deploy pre-built modules that we've meticulously perfected over hundreds of implementations. This means that you can go from Excel spreadsheets to Salesforce in 60 days or less.

Investor (LP/GP) Database
Tracking investor key contacts, relationships, and preferences just became a lot easier. With our IP for Salesforce, you'll get a ready-to-use set of configurations used by industry-leading investor relations teams.
Investment and Deal Pipeline
Never miss a next step and stay one foot ahead of your competitors by capturing and tracking your deal pipeline in Salesforce. Monday morning meetings can be run entirely our of your Salesforce database.
Fund Management
Subscriptions, redemptions, capital calls, and documents are all tracked from within your fund command center. Included with Launch, you have one place to view all of your IR team's critical data to serve up to LPs.
Advanced Relationship Tracking
What if everyone at your firm knew who everyone at your firm knows? That's what it's like when Salesforce captures multi-dimensional relationships for contacts and companies.
Company Tracking
Investment professionals work day and night to establish and build relationships with executive teams at emerging companies. Our IP turns Salesforce into a central repository for all the companies and relationships in your network.
Outlook and Gmail Connection
Your team spends most of their day in Outlook or Gmail. While we can't change that, we can embed Salesforce directly into your favorite email applications to capture, update, and maintain your firm's data without adding unnecessary steps to your professionals' day.
You're In Great Company
Hundreds of firms across private equity, venture capital, investment banking, and asset management trust Plative to build their firm-wide system of truth.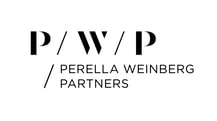 Get Started Today
You're one small step away from transforming Salesforce into an all-in-one deal tracking, investor relations, and operations engine for your firm. Book a call today.