Orchestrate communication with your customers, prospects, or constituents at scale
Salesforce Marketing Cloud Engagement allows you to orchestrate emails, SMS, mobile app alerts, and more from a single, unified marketing automation platform. Build emails, segment your lists, and automate campaigns in the tool built for digital marketers. Effectively report on your marketing successes and refine your campaigns. We'll complete your Marketing Cloud Engagement Launch in sixty days or less.
We accelerate our consulting engagements with faster time-to-value by combining industry experience, deep platform expertise, and a portfolio of proprietary accelerators and IP gained through thousands of implementations we've accomplished before yours.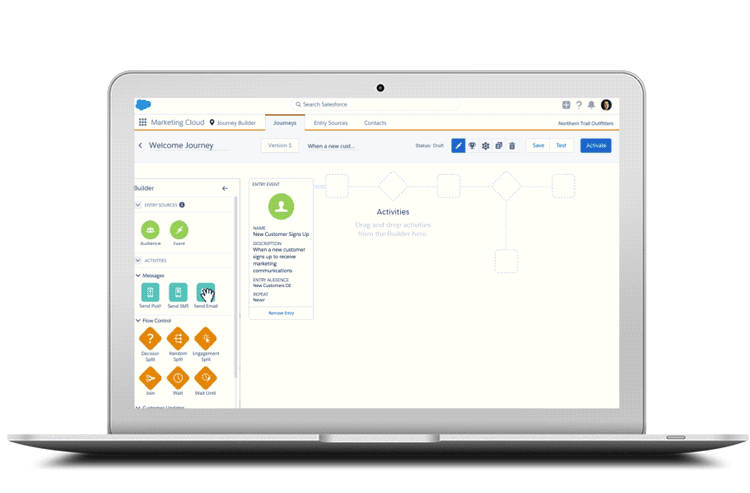 Audience Segmentation
Plative will review your subscriber data and help you build targeted, dynamically-updated subscriber lists
Subscription and Preference Center
Get the most of Marketing Cloud's standard subscription and preference center so your customers and prospects can subscribe and unsubscribe from lists.
Email Building
Work with Plative to create dynamic email templates that are flexible and customized to your organization's needs.
Your First Email Send
Plative works with you to make sure the first email you send from Marketing Cloud Engagement is a success. We'll be there every step of the way in creating, optimizing, and scheduling your send.
Verified Domain Setup
Plative will help ensure your emails get to your audience by validating your sending domain and auditing your email deliverability.
Email Reporting
Learn how to draw key insights from email engagement data so you can develop more effective sends.
A Proven Methodology, Made Possible By Hundreds of Deployments
Unlike most Salesforce implementations, Plative Launch is structured to quickly deploy pre-built modules that we've meticulously perfected over hundreds of implementations. This means that you can go from Excel spreadsheets to Salesforce in 60 days or less.

You're In Great Company
Countless companies choose Plative to achieve success with Salesforce Marketing Cloud




Get Started Today
You're one small step away from transforming Salesforce into an all-in-one solution in 60 days. Book a call today.