Your trusted consultants for
Salesforce Marketing Cloud
Want to become customer-obsessed? We're here to help! Build personalized one-to-one journeys across mobile, social, email, and whatever comes next.
Find out what makes Plative one of the top Salesforce partners globally. Get in touch with us today to see how we can put Salesforce Marketing Cloud to work for your company.
Book a consultation today:
Your Dedicated Partners in Marketing
Plative is a full-service Salesforce Summit-tier partner that takes an industry-first approach to solving some of the most complex challenges for marketers and technologists alike.
Our certified Salesforce Marketing Cloud consultants provide a full range of services for any step in your Marketing Cloud journey including discovery and design, re-platforming from an incumbent marketing automation solution, or optimizing an existing Marketing Cloud instance.
We don't stop there. Once Marketing Cloud is running smoothly and delivering amazing personalized experiences for your customers, we can advise across the rest of your Salesforce technology from lead, to quote, to cash, to general ledger (Yes, we're also a top-5 Oracle NetSuite ERP partner!)
How We Can Help You Build Stronger Customer Connections
Personalize Your Messaging
Leverage the power of personalization within Salesforce Marketing Cloud and your third party systems to send thoughtful, relevant, and timely messages designed to engage and inform your prospects and customers.
Implement and Optimize Marketing Cloud
Get migrated off of legacy marketing automation platforms and moved on to the Salesforce Marketing Cloud Platform with all of your data, segmentation, filters, templates, and customer data. Trust your data migration, big or small, with Plative.
Enhance Your
Customer Experience
Build segmentation and rules, target based on firmographic information, and make use of all of the data available to you to engage your customers wherever they are, whether that's on mobile, social, email, or whatever comes next.
Set and Track Your Return On Investment
Put predictive analytics to work to help you make informed decisions on building campaigns that deliver return on investment reliably. We'll give you the power to demonstrate that return on investment data in visually-appealing dashboards.
Bring Us Your Biggest Marketing Challenges

Marketing Cloud
Engagement
Orchestrate customized journeys including emails, push notifications, SMS, and send transactional messages to keep customers engaged.
Marketing Cloud
Account Engagement
Unite marketing and sales on a single platform for B2B marketing automation, lead scoring, web forms, landing pages, and more.

Marketing Cloud
Personalization
Deliver relevant and timely customer experiences with personalization and interaction management by Salesforce.

Marketing Cloud
Intelligence
Connect, analyze, and take action on your data in one marketing dashboard to drive ROI, speed, and growth across your business.
Data Cloud
For Marketing
Get a complete view of each customer with unified profiles. Activate real-time moments seamlessly across multiple channels and integration points.

Tableau Analytics
for Marketing
Connect Marketing Cloud data within Tableau Cloud or Server to easily serve up your data in context of the rest of your data center.
Make The Jump To
Salesforce Marketing Cloud
We get it. Making the jump to Salesforce Marketing Cloud from an incumbent system is difficult. Luckily, we've helped hundreds of companies that are in the same position you're in, and have some best practices to show for it.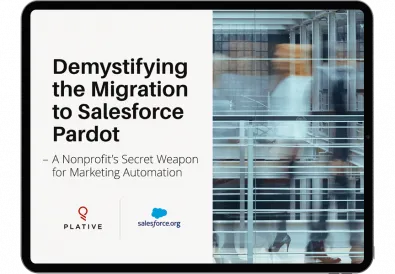 "Plative is world class. They know what they are doing, and they've helped us on every step along the way!" Jennifer Lamplough, CIO of Northern Illinois Food Bank
"We honestly would not be where we are today in terms of our Salesforce instance without Plative" Susanna Walsh, Sales Operations Leader at Hover
"Plative is clear, concise, and has the end solution in mind. They understand that each business has its own requirements, but at the end of the day, we need to fulfill a service efficiently." Erik Davis, President of Ryeka Sport
Marketing, CRM, and ERP Under One Roof
With over 600 Salesforce certifications under our belt, Summit (the highest) tier partner status, 2,000+ go-lives, and a 5-star AppExchange review, we're no strangers to Salesforce.

As a top-10 Oracle NetSuite Alliance Partner in North America, we are well-equipped to help make NetSuite the backbone of your business. With over 1,000 go-lives under our belt, we have the know-how to do it.